Here are a few interviews that we have ready and streaming.We recommend the latest Quicktime player and Mozilla Firefox for easy streaming and browsing. If there are any archived staff shows or interviews you would like to hear please send requests to inwlvr@lehigh.edu – Title- ARCHIVES
A special thanks to the man behind the scenes that makes all these interviews possible. To our Blues/Rock/Metal MD… SHECK you absolutely rock dude!
Some of the archive page is also available as a podcast to listen on the go.
WLVR VIDEO for The ARCHIVES
A  VIDEO tour of the 91.3 FM, WLVR studio, January 20, 1989, back in the time of LP's and cart machines. At that time, it was located in the basement of the University Center.
Coming soon to the Archives…
Uncle Ted Nugent- Richie Kotzen- Brian Greenway of April Wine, Marty Paris, Wang Chung, Roger Earl of Foghat, John Shaffer of Iced Earth and Sons Of Liberty and more!
ARCHIVED INTERVIEWS
The legendary back beat and driving rhythm of classic rock bands Free and platinum recording artist Bad Company  drummer and songwriter SIMON KIRKE joins Fritz for a phoner to advance his show at Sellersville Theater on July 18th.
SIMON KIRKE of FREE and BAD COMPANY July 15, 2015
www.wlvr.org/public_html/interviews/SIMON%20KIRKE%20w%20FRITZROCKS%207-15-15%20.mp3
Chris Squire Interview
The legendary bassist from Yes joins Fritz for a brief interview in advance of their scheduled appearance in concert at PennsPeak on March 30th.
The legendary Irish rockers Thin Lizzy are blazing their way through the 2011 World Tour and WLVR caught up with…
SCOTT GORHAM
Leading the Thin Lizzy charge, Scott joins Fritz for an exclusive interview in advance of Thin Lizzy's concert at Penn's Peak on March 24. Hear about the incredible band lineup , how it came together, Scotts new guitar and other Thin Lizzy history.
SCOTT GORHAM THIN LIZZY- Fritzrocks Interview Pt 1
SCOTT GORHAM THIN LIZZY- Fritzrocks Interview Pt 2
PROG Rockers"TWELVE TWENTY FOUR" Interview on "Irresponsible Radio" w Jon
Twelve Twenty Four started as a Trans Siberian Orchestra tribute band.  They released their first album which honors the Holiday Season and proves this band can rock just as well as TSO!
Filled with local talent, these players can certainly hold their own with the best of the prog rockers. Our resident Prog Rock Guru – Jon from Irresponsible Radio talks with bass player Dirk Yahraes about the new debut album "Miracle On Rock Street" and the upcoming performance scheduled at Zoellner Arts Center  on December 28th.
Dirk Yahraes Twelve Twenty Four Interview Pt 1
Dirk Yahraes Twelve Twenty Four Interview Pt 2
HEADLESS HORSEMAN Interview w Ally on "Without Vowels"  Show
Ally from WLVR's hot student show "Without Vowels" conducts her first interview with …Headless Horseman, a Brooklyn buzz band originally from Allentown that's turning our heads (well, those of us with heads).
Their glitchy-pop music incorporates noises that you never knew were possible, but make it sound so natural at the same time. With strong influences from Sigur Ros this two man wonder is definitly something to checkout. We look forward to hearing more from them in the future!
Headless Horseman Interview w Ally 
The METAL GOD "Rob Halford
Rob Halford of Judas Priest fame joins Sheck in 'The Dungeon" for another WLVR interview EXCLUSIVE!
Rob talks with Sheck about the latest album release "Made of Metal". The true "METAL GOD" Rob Halford interview is a HUGE coup for WLVR and we were freakin' amazed that we could get to speak with this metal legendary vocalist. Another WLVR Exclusive for all to enjoy.
ROB HALFORD Interview in The Dungeon
TOMMY JAMES Interview on FRITZROCKS
The legendary Tommy James talks about his career, his bestselling book "The Mob,The Music and Me" One Helluva ride with Tommy James and The Shondells, soon to be a broadway play and major motion picture. This interview was a great insight into one of the worlds biggest recording stars and the pitfalls of this crazy business of Rock n' Roll.
The "Beehive Queen" CHRISTINE OHLMAN Interview
Christine Ohlman joins Fritz for an exclusive interview and showcase for the new album "The Deep End". The Beehive Queen of Blue Eyed Rock n' Soul discusses life, love and loss and the making of The Deep End her latest studio album in six years that features a host of quest stars.
ALAN PARSONS Interview
The legendary artist, producer, songwriter and educator joins WLVR for an exclusive interview in advance of his sold out performance at Zoellner Arts Center season opener. Hear Alan talk about his Abbey Road days, Pink Floyd's Dark Side of the Moon and his educational project "The Art and Science of Recording" plus so much more.
IAN ANDERSON of Jethro Tull Interview
The pied piper of rock checks in with WLVR's Fritzrocks in advance of his concert at Penns Peak. Always charming, irreverent and witty, Ian talks about how he relates to his audience over these many years and more
JACKYL's JESSE JAMES DUPREE Interview
The hardest working man in Rock N Roll (according to Jesse) talks with Sheck in The Dungeon about Jackyl's latest CD Release "When Moonshine and Dynamite Collide". Rambunctious and rowdy, Jesse gives us a brief glimpse of life on the road in Rock N Roll!
JESSE JAMES DUPREE Interview with Sheck
BILL LEVERTY of Firehouse Interview
Lead guitarist and songwriter from platinum recording rock band Firehouse released an amazing Metalcana Blues Roots album called 'Deep South" which features traditional songs that may be over 100 years old but live again with a totally vibrant and exciting twist.
Join Bill and Fritz as they showcase the album and talk about it's creation and recording. All the instruments are played by Bill and the guitar work is astounding!
Bill Leverty Interview Pt.1    Bill Leverty Interview Pt 2
ACCEPT's  Mark Tornillo Interview on FRITZROCKS

Mark joins Fritz for a brief interview in advance of the Accept concert at the Silo in Reading on Friday October 1st. Hear Mark talk about the critically acclaimed new release from Accept "Blood Of The Nations", how he joined the band and the story of the Twitter crash .
Mark Tornillo Interview on Fritzrocks
RONNIE JAMES DIO
July 10, 1942 – May 16, 2010
In memory of Ronnie we have posted the Fritzrocks Interview with him from 2005. A truly great loss to the world of Rock and Heavy Metal.
R.I.P. Ronald James Padavona
Coming soon to the Archives…
Uncle Ted Nugent- Richie Kotzen- Brian Greenway of April Wine, Marty Paris, Wang Chung, Roger Earl of Foghat John Schaffer of Iced Earth and Sons Of Liberty.
LITA FORD & JIM GILLETTE Interviewed in The Dungeon
The Queen of Metal… Lita Ford is back! She has a new album released 10-6 called "Wicked Wonderland" and is currently performing WITH Queensryche on The American Soldier tour.
Sheck talks with Lita in The Dungeon about the latest album release, the tour and more. Jim Gillette of NITRO fame also talks with Sheck to give his wife a rest after her all day press junket. Gotta save those vocal chords ya know!
Jim and Sheck go on to talk about much more and fill the listener in on ALL things Lita. After all, when your married to, have a family with and manage your wife's career, there 's a special inside look on Lita that makes this an interview that any Lita fan needs to hear.
LITA FORD- & JIM GILLETTE Interview in The Dungeon
ANAKA storms The DUNGEON!
Anaka joined Sheck in The DUNGEON live for the entire 3 hours. WLVR got plent of feedback on this show and we bring it our archives for you!
You can listen to the entire show in three one hour segments. ENJOY!
ANAKA Radio in The Dungeon pt. 1
ANAKA Radio in The Dungeon Pt. 2
ANAKA Radio in The Dungeon Pt. 3
Albert Cummings spoke to The Blues Ambassador Dave Behn on Briefcase Blues Monday may 11th. Albert is appearing in concert at the STAR Series :Blues, Brews, and Barbecue at the Works in Wyomissing on May 16th.
Albert Cummings Interview w Blues Ambassador  
NEKTAR's Roye Albrighton Interview
Roye Albrighton, a founding member and driving guitar force behind NEKTAR talks with A.J.Fritz about the new album "Fortyfied", the current band and concert appearance at ROSFEST.
ROYE ALBRIGHTON of NEKTAR Interview
LES CLAYPOOL Bass Legend Interview with LINUS in The Speakeasy
Linus talks with the bass playing legend of Primus about Les's new album "Of Fungi & Foe" . Linus is a bass player himself and he scores his first interview with this Bass master. We hope this is the start of more of our Lehigh students cutting their teeth talking to music artsists.
LES CLAYPPOL Interview w Linus In The Speakeasy
LES CLAYPOOL Showcase w Linus In The Speakeasy
TODD RUNDGREN Live Interview on FRITZROCKS 3-18-09
Todd joins Fritz LIVE from his home in Hawaii. They talk about the Arena album , the technology, the music and more!
DEREK TRUCKS Exclusive interview in The Blast Furnace w SINATRA
WLVR's General Manager does more than double duty, besides managing our student operated station, he rocks every week on the air and and gets the chance to interview some of today's best.
On this day Sinatra takes 2 exams and has time to prepare for and interview one of his and many other's guitar hero's, the great Derek Trucks. That's dedication, that's rock n' roll!
DEREK TRUCKS Showcase ( Music & interview)
GARY HO HO HOEY – Guitarist Extrordinaire Interview on Fritzrocks
Gary joined Fritz from San Diego while on his 13th Annual Ho Ho Hoey Tour before his schedule appearance at Sellersville Theater on 12-21-08.They talked about his latest album American Made , his Hallmark Christmas Greeting Cards, his website Fender Strat Giveaways and how Gary got the Ho Ho Hey spirit!
TOMMY CASTRO on BREIFCASE BLUES Dave Behn
Our "Blues Ambassador" talks with one of todays Blues Legends. The interview was recorded in July of 2006 and gives some insight into this great artist.
TOMMY CASTRO Interview w Blues Ambassador Dave Behn
MICK BOX- guitarist, songwriter and founding member of URIAH HEEP talks with A.J. Fritz about New Release "Wake The Sleeper" and other Heep news.
URIAH HEEP's MICK BOX Interview
SHECK Interviews YNGWIE MALMSTEEN in The DUNGEON
Yngwie Malmsteen talks w Sheck in The Dungeon about his guitar choice the Fender Stratocaster, the new album, his method of songwriting and more.
YNGWIE MALMSTEEN in The DUNGEON w SHECK
FRITZROCKS Interview w Dan Mcafferty of NAZARETH
Scottish rock band Nazareth talk to A.J. Fritz PM about the the new album "The Newz"
and other stuff as we catch up with this great rock band before their appearance at Crocodile Rock Cafe in Allentown. Click the link below to listen anytime.
Dan Mcafferty of Nazareth on Fritzrocks
JOE BONAMASSA talks with JOE O.
Joe O. cuts his teeth with his first interview and speaks with guitar great Joe Bonamassa about the album Sloe Gin and more. Joe Bonamassa played at Penns Peak in November of 2007 and the two Joe's met at the show.
JOE BONAMASSA Interview in JOE's Basement
PAT TRAVERS on FRITZROCKS 11-12-08
We caught up with PT again at home in Florida taking a short break while on tour supporting his new live album "Stick With What You Know" the incredible smokin' sequel to PT's 1979 release Go For What You Know.
Pat talks with Fritz before his concert at the Sellersville Theater about the new album, the four piece Dual guitar attack of the band, his 2 knuckle pushups and how the martial arts philosophy has helped his playing and writing plus a new studio release in early 2009.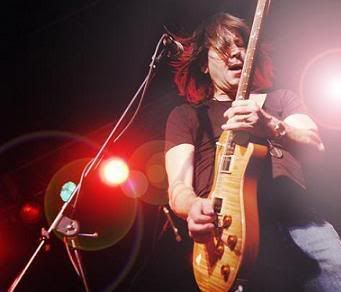 GREAT WHITE Frontman JACK RUSSELL Interview w 80's in The Morning's Ryan Knight
JOHN 5 Interviews Exclusively in The DUNGEON w Sheck
ACCEPT 'S Legendary frontman UDO DIRKSCHNEIDER Exclusive Interview in The DUNGEON w Sheck
UDO Interviewed in THE DUNGEON
FISH (Ex- Marrilion)Exclusive Interview before NEARFEST on FRITZROCKS
The Fishheads pulled it off and thanks to Capt Nemo and our MD Sheck, A.J. Fritz managed to catch Fish before the Nearfest show.They talked about Nearfest's help to sponsor the trip to the states, the new album 13th Star and more. Fritz also videotaped the interview and maybe it will make it's way to the Official Fish Site.
FISH & FRITZ NEARFEST 2008 WLVR EXCLUSIVE
ROBIN TROWER Interview on FRITZROCKS
WLVR caught up with Robin before his concert at Penns Peak. Robin and A.J. talked about the new Jack Bruce- Robin Trower "Seven Moons" album, his catolog and that tone.
ROBIN TROWER Exclusive on FRITZROCKS
JOHN JD DeSERVIO of BLS interviewed in The DUNGEON w Sheck
Interview with JD in The DUNGEON with Sheck
WARREN HAYNES of GOV'T MULE Interview on FRITZROCKS
Warren Haynes of Gov't Mule and The Allman Brothers joins A.J. Fritz for an interview before their appearance at Penns Peak in Jim Thorpe. They talk about Gov't Mule as a four piece band, The Annual Christmas Jam and work with Habitat for Humanity,Warren's Signature Gibson and more.
ELECTRIFYING Artist WEBB WILDER Interview on FRITZROCKS
Fritz talked with Webb Wilder this summer before his appearance at Catasauqua Pool Party and Musikfest were booked. They talked about his music, films and the Webb Wilder Credo. This was a great fun interview with the "Electrifying Artist" and we hope to talk with him again someday.
WEBB WILDER Pt 1 WEBB WILDER Pt 2
IAN ANDERSON of JETHRO TULL Interview ON FRITZROCKS
 This interview was conducted a few years ago but gives some real insight into this talented and remarkable artist. He truly believes that Raymond The Amish Comic is really Amish.
GEORGE LYNCH & VINNY APPICE in WLVR Studios w Fritzrocks
BLACKFOOT 's Founding Member & Bass Player GREG T. WALKER Interview on Fritzrocks
These are just a few of the interviews and programs to come from the WLVR archives. We are currently archiving some student and community programming while continuing to restore past broadcasts that may have been archived.
If there are any archived programs or interview suggestions you would like to hear please send to inwlvr@lehigh.edu Please Title-ARCHIVE